Discover more from tennbeat
tennbeat is an online news outlet based in Nashville, Tennessee. Here you will find "news you can use" to make informed decisions and opinions on business, government and everything in between.
Yardstick to open second Nashville location in August
The boutique pet boarding facility offers overnight stays, doggy daycare and bathing services
In December, Dave Atkins said his boutique dog boarding business, Yardstick, wouldn't be "a one off in Nashville". He intended to become a household name and open multiple locations.
This week, just four months after opening his first location in Berry Hill, Atkins announced Yardstick will be opening a second location in August.
The 6,000 square foot facility, located at 5815 Charlotte Avenue next to Las Palmas, will mirror the thoughtful layout of Yardstick's first location, which was designed to provide "an elevated experience" for pets and their parents, offering boarding, daycare and bathing services.
"Most boarding and daycare facilities are loud and over-crowded," says Atkins. "It's a stressful environment for owners and their animals."
He and co-founder Drew Brinkoetter, 'paid special attention to the acoustics of the building to ensure animals have a calm sleeping environment and made a conscious decision to cap the number of overnight and daycare guests. 
"Boutique is an important word," says Atkins. "It's intentionally saying we're serving a fewer amount of dogs."
The Charlotte location will feature 50 suites — roughly ⅔ of the number of suites offered by kennels whose buildings are comparable in size — according to Atkins. Daycare playgroups, which are designated by dog size, are also smaller.
"It's not uncommon for daycares to have groups as large as 30 or 40 dogs, but that's just an accident waiting to happen," says Brinkoetter. "At Yardstick, dogs will never be in a group with more than 12 dogs. We want to reduce the risk of an incident — a fight or a bite — ever happening."
In addition to scaling down the size of an operation, a boutique experience "also means not being afraid to invest," adds Atkins, who refused to cut any corners on the design of the Berry Hill location.  
Atkins and Brinkoetter commissioned Bolt Design Group, an esteemed New York design firm to breathe life into their custom concept. All of the suites feature sound reduction properties. Play areas are outfitted with padded flooring to protect dogs paws. And the lobby, well… it looks more like a cool lounge than a kennel with its bright, mid century modern motif.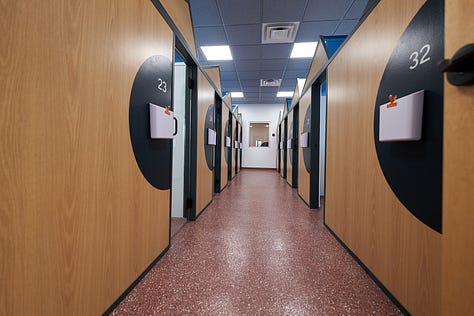 The posh pet resort also has a small retail section offering a curated assortment of pet accessories, treats and toys.
Brinkoetter says, "Charlotte will be a carbon copy of Berry Hill."
Of course, these upscale accommodations come at a cost. A stay at Yardstick will run owners $80 a night (which includes Daycare), roughly $15 more than the average kennel in Nashville. Standalone Daycare starts at  $45 a day.
"If you look at a typical boarding menu, they have lots of different room tiers, and then you might have to pay extra to get your dog a walk or to get their belly rubbed," says Atkins. "Our view was we'd rather just be a premium product, make it simpler on the parents and offer a single price."
However, parents can treat their pets to "room service" during their stay. The high-end pet hotel's menu includes Puppuccinos, Pupsicles, Gelato, and calming CBD treats.
"Pets have become members of the family," Atkins says, citing the growing humanization of pets. "Parents want to pamper them just as they would a child or relative."
Owners can book a stay or a play for their pooch on Yardstick's website. 
"Most boarding facilities are old fashioned and still require owners to call to reserve a spot — it's inefficient for service providers and  inconvenient for pet owners," says Brinkoetter, who in addition to Yardstick, co-founded Goose, a software booking system for doggy daycares and boarding facilities.
"Owners will be able to begin booking for the Charlotte location sometime in mid-to-late July, says Atkins.
Thanks for reading tennbeat! Subscribe for free for more Tennessee business news.
Thanks for reading tennbeat! Subscribe for free to receive new posts and support my work.